Teaching Technology to Older Adults During the Coronavirus Pandemic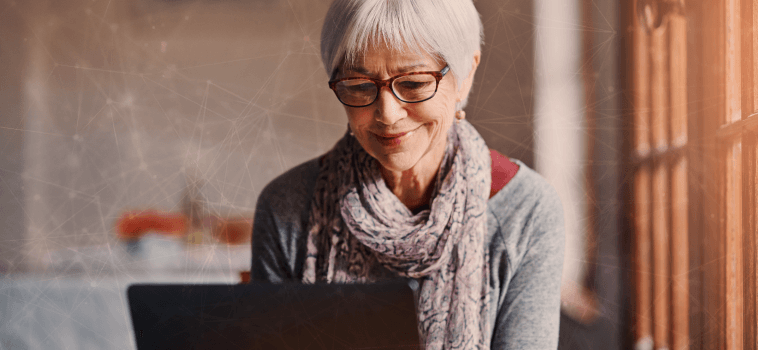 Over the past decade, more older adults in the United States began using smartphones and more started going online regularly, according to Pew Research Center data from 2017. However, while tech adoption climbs among older adults, only 26% of internet users aged 65 and up reported feeling very confident using computers, smartphones and other electronic devices to do their tasks online. The majority indicated they usually need help setting up and learning to use a new device.
Getting support in person, however, is likely to become a significant challenge during the coronavirus pandemic. Older adults are considered to be at higher risk of developing severe illness from COVID-19 by the Centers of Disease Control and Prevention. Accordingly, many states, counties and cities are urging all citizens to stay at home—which means older adults and their personal tech support teams have to get creative.
With patience and flexibility, family members can provide the best tech support for seniors from a safe, healthy distance. Together, they can practice using new and innovative technology for older adults, learning to meet their daily needs through online services, from paying bills to ordering groceries and streaming music.
Four Questions to Help Get Older Adults Online
Before older adults can start using online services, a few things need to be in place. Ask or find out the answers to the following five questions.
1. Do You Have a Device to Get Online?
An internet-enabled device—such as a smartphone, computer (desktop or laptop) or tablet—is essential to going online. Older adults who want to participate in video calls will need a device with a webcam.
For older adults getting a new device, Kami Griffiths, co-founder and executive director of Community Tech Network, recommends setting it up before sending it to them. Answer the setup questions and download a few familiar games such as Solitaire and Scrabble. If possible, choose the paid, ad-free versions.
"If you have an ad pop up and you don't know how to get rid of it, that is a deal breaker right there," said Griffiths. "They don't know that the 'x' means to close out."
For a tablet, download Generations on Line, a free app designed for older adults that teaches the basics, including how to swipe, tap, zoom and download new apps.
2. Do You Have Internet Access?
According to 2017 Pew data, about 41% of adults aged 65 and up do not. To get access, contact their local internet service provider (ISP). Find ISPs by zip code using an online tool like BroadBand Now.
Griffiths recommends setting up a three-way call with the older adult and the ISP to ensure the older adult is getting only the services they need and not being upsold.
Other low-cost options for internet access include:
Some apartment buildings include internet access with rent. Ask for the login information: the network name and the password.
Ask if a neighbor would be willing to share internet access.
3. Do You Have an Email Address?
If not, create an email account for the older adult, making note of the password. An email is typically required to use online services and can be complicated for a new user to set up themselves.
4. What Would You Like to Do?
Ask the older adult what they want to learn to do with their device. This is not the same as what you want them to learn. Remind them of the online services available and explain their value. For example: "With video calling, you will be able to see your grandchildren." Start by focusing on one or two simple online tasks.
Some online services require an account to use. Because this can be challenging for new users, create the account on their behalf. If possible, use a second device, such as a landline, to walk them through the log-in process.
Distance Tip: Download the same apps on your own device so that you can see the same screen as your older adult.
Helping Seniors Learn New Technology from a Distance
Reintroduce yourself.
Older adults may feel silly or incompetent learning new technology, especially if they have already tried and failed. Both of you may feel frustrated. Trish Lopez, founder and CEO of Teeniors®, suggests opening with, "Hey, Mom, can we start over? I know you want to learn how to refill your prescriptions online, and I want to teach you. I guess I'm realizing that I'm not such a great teacher, but I'm learning." Learning will be especially challenging, given the heightened stress and anxiety around the coronavirus pandemic. Practice patience, and start over if you need to.
Have a second device.
Take account of the devices the older adult can easily use to communicate. Do they have a landline phone, or do they already use FaceTime? Use the second device to provide coaching. For example, if the older adult wants to use a grocery delivery service and has a home phone, call the landline and talk through the steps to using the app on their smartphone.
Validate the difficulty of learning a new skill.
"Start off by acknowledging that the sheer volume of information they're taking in is overwhelming for anyone," said Lopez. People usually learn new technology over the course of several years, but today, as more states advise staying at home, many older adults have to master these skills in a matter of days. Recognize the steep learning curve, and encourage their attempts.
Gauge their comfort level.
Try to determine how comfortable they are with their devices, and do not make assumptions. Do they know how to turn the device on and off? Can they silence it? Do they know how often the device needs to be charged? This provides a starting point for the lesson.
Use familiar metaphors and avoid jargon.
Lopez suggests comparing spam email to junk mail in the mailbox. You can also liken web addresses to street addresses to convey the idea that visiting a new website is like visiting an actual place. Remember that older adults may not be familiar with phrases like "x-ing out" and how to check the Wi-Fi signal.
How to Adjust to Daily Life Online
Food
Through apps and websites, you can order groceries from many nearby stores or takeout from local restaurants. If possible, leave a generous tip for the delivery person through the app or website.
Health and Safety Tip: Ask the delivery person to leave the items at the door. Once received, wipe groceries down with disinfectant. For takeout orders, remove the food from the containers, and toss the boxes immediately.
Grocery Delivery
Offline alternatives: Some grocery stores are offering special hours for older adults to shop. Or, a relative or close friend can place an online order on their behalf.
Restaurant Takeout Apps
Offline alternative: Restaurants may offer their own takeout or delivery services.
Meal Kits
Prescription Delivery
Many local and chain pharmacies, as well as Amazon, will deliver prescriptions to patients. Some are currently waiving delivery fees. Another option is mail-order prescription services. Most operate through insurers' pharmacy benefit managers. Make sure the service accepts the older adult's insurance plan and offers the medications they need.
Prescription Delivery
Online Bill Pay
Online bill pay can be set up through individual banks, often for free. A third-party bill-paying service, such as Quicken Bill Pay or SilverBills, can also help manage an individual's finances for a fee.
Health and Safety Tip: Griffiths recommends emphasizing internet safety for seniors. Scams targeting seniors are, unfortunately, quite common. Never give credit card information or Social Security numbers out to an unrecognized sender or service. If a senior does fall victim to one of these scams, they should alert a supportive friend or relative as soon as possible.
To learn more, older adults might consider a free online course, such as Ready, Set, Bank. The short video tutorials include:
Offline alternative: Have the older adult's mail forwarded to their power of attorney agent, who is authorized to make financial decisions on their behalf.
Telemedicine and Online Mental Health Counseling
In light of Medicare's recent expansion of telemedicine, many healthcare appointments typically conducted in person are now being conducted online. Patients and providers would ideally have a two-way visual and voice connection through the built-in microphone and webcam on their devices.
Likewise, mental health counseling is offered online, also using the built-in microphone and webcam. Each of the options below is accredited by the American Telemedicine Association and accepts insurance. Older adults should check which options are covered by their plans.
Mental Health Counseling Services
Entertainment
Television shows and movies can be streamed as a convenient alternative to cable. Streaming requires an internet connection to connect the device to the streaming service. Music can also be streamed on smartphones, tablets and computers.
Television and Movies
Music
Online Newspapers and Magazines
Most national newspapers and many local ones offer free digital access to print subscribers. To access the news content, subscribers will need to create an online profile and then link the print account to the profile.
National News Outlets
Magazines
Video Calls
A video call is like a phone call that allows the caller and receiver to see each other. Remember that video calling requires a device with a webcam and a functional microphone, which is typically built-in.
Video Call Platforms