Bachelor's in Health Science (BHS) Programs | Guide and List
Choosing to pursue a bachelor's in health science can be a life-changing choice for individuals who want to combine medicine, nutrition and health-related topics into their holistic healthcare practice. The advancement of technology within the health sciences field has changed the scope of general public health as a whole, as well as the increasing career growth of healthcare occupations. For those who want to be involved with this dynamic field, there is a BHS degree program that gets professionals involved without having to commit to one sector completely.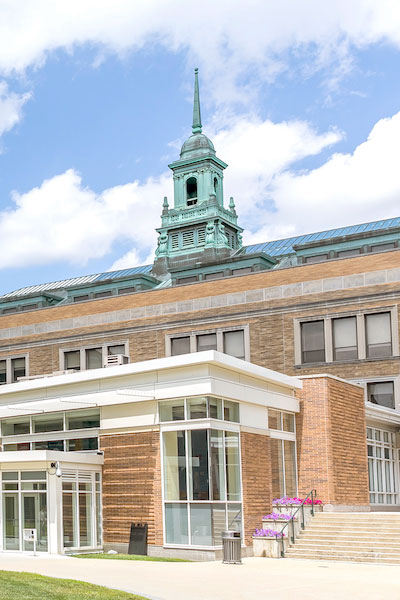 Simmons University
Department of Public Health
Bachelor of Science in Public Health
Women with 17+ prior college credits or an associate degree: Complete your bachelor's degree in a supportive women's online public health BS program.
Up to 96 transfer credits accepted, plus credit for life experience
Degree programs are designed for working professionals and can be completed part time
CEPH-accredited
info SPONSORED
What Is a Bachelor's in Health Science (BHS) Degree?
Health science is a multidisciplinary field that covers both natural science and behavioral science. The Bachelor of Health Science (BHS) degree may provide fundamental knowledge in the study and research of health. You may learn how to apply that knowledge to improve health, cure diseases and understand how humans and animals function. Additionally, you may be able to specialize in fields such as global health, health education and biomedical sciences to provide accurate care to specific populations. A BHS program is best for students interested in pursuing careers in medicine, such as physician assistant, nursing, occupational therapy, physical therapy, speech pathology and other allied health fields.
Depending on the school you choose, the degree name may vary slightly. For example, one school may call their degree a Bachelor of Science in Health Science, and another may refer to the degree path as a Bachelor of Health Science. While the name of the degree may vary from one school to another, the curriculum is generally the same across the board.
Students who earn a bachelor's in public health may find themselves pursuing a similar career path as students who earned a bachelor's in health science degree.
BHS Curriculum and Learning Outcomes
Courses in a BHS degree program include a variety of healthcare-related subjects, but just like many other undergraduate degree programs, there are general education courses that must be completed prior to taking more advanced courses within the major, such as mathematics, psychology and ethics. However, there are core courses that will likely be required for health science degrees, such as biology, anatomy and physiology, chemistry, psychology and nutrition.
Some universities may offer courses such as microbiology and health informatics. Microbiology teaches students about the microorganisms that are present throughout nature. The knowledge of these organisms helps students understand the relationship between individual health and illness in regard to the influence of microorganisms. Health informatics is on the opposite side of the healthcare spectrum and helps students learn about technology/healthcare relationships, as well as information technology.
Some typical BHS courses may include:
Health Communication: This core course may focus on communication strategies for the healthcare industry. Students may analyze theoretical frameworks and communication tactics and examine various health communication technologies, such as ehealth and mhealth. Some of the topics that may be covered in this course are health literacy, client communication, peer-to-peer communication and effective public health communication.
Healthcare Systems in the United States: This course may guide students through the ins and outs of the U.S. healthcare system. Some of the topics you may expect to see include organization, financing and delivery of health services within the United States. This course may analyze the healthcare system through several perspectives including professional, organizational and community.
Biostatistics: This core course may examine the use of statistics in health and healthcare services. Students may learn various methods to analyze data. Additionally, students may be asked to use Excel to manage data and perform statistical analysis.
While these subjects are different in nature, they represent the variety of courses that can be offered through this degree program. Students in BHS programs will be introduced to various aspects of the healthcare field in an attempt to inform them of the different catalysts that are in effect through the field as a whole.
Admission Requirements
Admission into BHS programs may vary depending on the school you choose. However, most schools have similar criteria for admission into their program. Some of the most common requirements include:
Completed application
26 credit hours or an essay along with high school transcripts or equivalent
24 college credits or test scores; generally, ACT composite score of 19 or minimum combined score of 910 on the SAT
Minimum GPA; generally, at least a 2.70 GPA on a minimum of 12 college credits
Online Bachelor's in Health Science (BHS) Degrees
An online BHS degree offers comparable quality without the sacrifice of having to adjust one's schedule to travel to campus. During online programs, students are expected to attend courses through a digital platform at their own pace. Most online bachelor's in health science courses provide learners with the opportunity for flexible due dates as well as numerous resources and support throughout the program.
Typically, a BHS degree program can be completed in four years with full-time course scheduling. It may be beneficial for students who wish to enroll in an online BHS program to research universities' accreditation prior to entry.
Next Steps for BHS Graduates
A bachelor's in health science has the potential to lead graduates in many different directions. Students who hold a BHS degree may find themselves working in health services, health informatics, public health, gerontology and healthcare administration.
However, individuals who want to open up more career possibilities may wish to pursue a master's degree. Some of the most popular master's programs that BHS holders seek include master's in health science, master's in public health, master's in health services and master's in nursing administration. These degree programs may be an excellent starting point for graduate-level learning. Many students have used a BHS degree as a foundation for success in the advancement of healthcare studies and even health informatics.
The healthcare field is constantly in need of professionals to assist with the evaluation and implementation of policies, management and research. Individuals at the bachelor's level, such as BHS graduates, can find careers in hospitals, private practices or even higher tier positions in hospital management.
Organizations that support professionals in this field, such as the National Health Association, provide excellent resources for interested individuals and can be a valuable tool for BHS students and healthcare professionals alike.
FAQs on Bachelor's in Health Science (BHS)
Below, you'll find answers to some of the most popular questions prospective students have about pursuing a BHS degree. Some of these questions are specific to online bachelor's in health science programs.
How long does it take to complete a bachelor's in health science?
Generally, full-time students complete a BHS degree in four years. A few factors, such as being a full-time or part-time student, taking an accelerated track and transferring from a community college, may play a role in determining how long it will take to complete a BHS program. 
What can I do with a bachelor's in health science?
Individuals who earn a BHS degree may choose several career paths. While some higher level careers may require a master's degree, a bachelor's in health science may help prepare you for the following careers: cardiovascular technician, dental hygienist, surgical technician, medical lab technician and paramedic.
What courses will I take in a bachelor's in health science program?
The courses required to earn a bachelor's in health science may vary by school. However, some of the core classes include Healthcare Systems in the United States, Health Communication, Health Care Ethics and Principles of Public Health. 
On-campus BHS vs. online BHS: Which learning format is better?
Deciding if a traditional BHS program is better than an online program may depend on your current situation. An online bachelor's in health science program may be a better fit for individuals who are looking for a flexible schedule and are self-starters. A traditional on-campus BHS program may be better for students who prefer to learn in person and have a more structured schedule. 
Last updated September 2021