Bachelor's in Public Health (BPH) Programs
If you want a job protecting the health of people and the communities where they live, a bachelor's in public health (BPH) could be a fit for you. With Bachelor of Science and Bachelor of Arts in Public Health programs both available, you can find an option that suits your interests and prepares you to enter the field.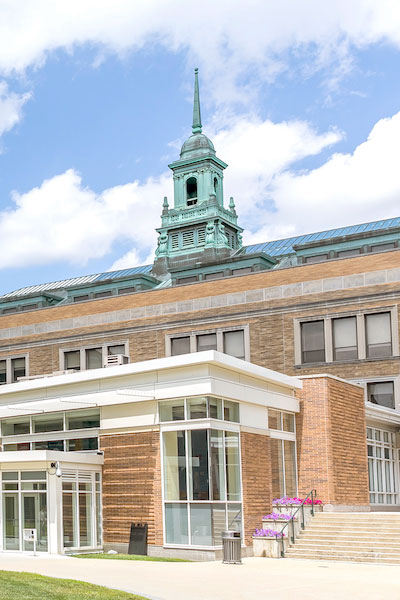 Simmons University
Department of Public Health
Bachelor of Science in Public Health
Women with 17+ prior college credits or an associate degree: Complete your bachelor's degree in a supportive women's online public health BS program.
Up to 96 transfer credits accepted, plus credit for life experience
Degree programs are designed for working professionals and can be completed part time
CEPH-accredited
info SPONSORED
This page will walk you through the basics of bachelor's in public health degree programs, explain what you'll study and discuss possible career opportunities.
Is Public Health Right for You?
People who are interested in health and well-being, driven to help others and are drawn to research, education or policy making may consider earning a BPH. A bachelor's degree in public health delves into a variety of topics, from building emergency preparedness plans to addressing health disparities. Taking public health coursework during your bachelor's degree program can be an excellent way to determine if public health is the right career field for you.
More broadly, it's crucial to understand that research and education are important components of the profession. Part of your job as a public health professional may involve transforming scientific findings into usable, easy-to-understand material that can be used to develop public health policies and programs, and inform the communities you are serving.
For those who are interested in the field, but are uncertain about pursuing it professionally, taking undergraduate public health courses may help you make up your mind. You can explore the Public Health 101 Series put together by the Centers for Disease Control and Prevention (CDC).
Bachelor of Science (BS) in Public Health
Bachelor of Science in Public Health (BSPH) courses typically focus on the natural sciences. Graduates with a BS in Public Health or BSPH may pursue a variety of science-based careers in the clinical field, such as epidemiology, biostatistics, and research. Students will cover much of what's included in BA programs while also completing coursework in math, statistics, health informatics, or chemistry. BS students may also have an interest in working in laboratory settings after they start their careers.
Bachelor of Arts (BA) in Public Health
A Bachelor of Arts in Public Health is generally designed for students with an interest in the socio-cultural, socio-economical, and health policy aspects of public health. While focusing on many of the same areas as its Bachelor of Science counterpart, a BA in Public Health puts greater emphasis on the social sciences. In practice, that could involve human behavior and development, social studies, and environmental health—as well as more general topics like politics and law.
Bachelor's in Public Health (BPH) Degree and Curriculum
What exactly does a bachelor's in public health cover? The answer to that question depends on your chosen institution and specialization, but you'll study a range of topics in both science and the humanities.
Typical Prerequisites for a BPH Program
Though the specifics depend on the university, many bachelor's in public health degree programs have similar admissions requirements. In most cases, you'll begin by applying for general admission to the university of your choice. Once accepted, you may contact the school to inquire about the specifics of the program admissions.
Many universities require high school transcripts (often with a GPA of 3.0), either an SAT or ACT score, letters of recommendation, and a personal statement. A personal statement may also be required for admission into the public health program specifically.
Concentration Options in BPH
Once you've gotten familiar with the basics of the field, a bachelor's in public health offers a number of public health specializations. Broadly, these are divided by degree type: a BA or a BS in Public Health.
BA candidates tend to focus more on the social sciences, with specializations covering areas like health education, community health promotion, and global health. Conversely, BS students are likely to specialize in science and statistics, studying research methods, epidemiology, and health disparities.
BS in Public Health programs generally don't require an individual to choose a concentration. But if you're hoping to obtain a more niche education, picking a specialization may help you do that. If you have one in mind, do your research to make sure your desired program offers it—some specializations are only available at the master's level, such as a Master of Public Health (MPH).
Typical BPH Curriculum and Courses
Though curricula vary between institutions and specializations, bachelor's in public health students can expect to graduate with the knowledge and skills needed to address many of modern society's fundamental public health challenges. As with many undergraduate programs, students will begin by taking general education courses, for example in biology or anatomy.
The specifics vary by university, but once you choose to major in public health, you'll take introductory classes across a range of topics, including the history of public health, environmental health, and epidemiology.
After successfully completing these courses, you'll be able to move on to more advanced study. At this point, choosing a concentration is sometimes required. In general, these courses may cover health psychology and behavior, or health management. Other concentrations go beyond the discipline itself, teaching students about public health education or administration.
Toward the end of your undergraduate degree, you may also be required to complete an internship or capstone project, but this varies by institution.
Traditional vs. Online BPH Programs
While some think it may lack the interactive environment of traditional BPHs, the online bachelor's in public health comes with some benefits. Like other online degrees, this starts with flexibility. Since many courses are available part-time, you can comfortably balance school and work.
An online program also lets you live at home and potentially save money on travel. And for candidates craving more interactive learning, some online programs offer in-person components too. Whatever path you choose, remember that online and traditional Bachelor's in Public Health programs normally share similar curricula, so you won't miss out if you decide to study online.
Frequently Asked Questions on Bachelor's in Public Health Programs
Identifying the right bachelor's in public health for you, can be confusing. Here's a list of frequently asked questions—and answers to help you as you make a decision.
What are the main differences between BS vs. BA in Public Health?
Normally, a BS and BA in public health cover many of the same areas. However, there may be slight differences when it comes to advanced study courses and specializations. In general, BA programs focus more on the social sciences, while BS courses focus on natural and environmental public health sciences—preparing graduates for a variety of jobs in the clinical sphere and beyond.
What can I do with a bachelor's in Public Health?
BPH graduates may work in community education and research. A few common roles for those starting out in the field include research assistant, community educator, and community surveyor. A job in the public sector may also be a viable option. Some individuals use their BPH as a platform for continuing education in medical school, nursing school, or pharmacy school. BPH graduates might also decide to pursue a master's degree in public health. An online MPH program may allow you to work while studying.
How to choose the BPH program right for me?
There are plenty of factors to consider before committing to a BPH program. For example, think about choosing a program that offers specializations you're interested in. You may also want to explore tuition costs, the institution's reputation, and whether they offer an online BPH degree.
Do I have to have SAT scores to apply for a BPH program?
The specifics vary by institution, but BPH programs may require SAT scores (though ACT scores are sometimes accepted too). In certain cases, a university will waive this requirement because of your specific circumstances.
Bachelor's in Public Health Programs List
Below, you will find a list of available Bachelor of Arts and Bachelor of Science in Public Health programs that are accredited by CEPH.
Simmons University
Bachelor of Science in Public Health
Women with 17+ prior college credits or an associate degree: Complete your bachelor's degree in a supportive women's online public health BS program.
Up to 96 transfer credits accepted, plus credit for life experience
Degree programs are designed for working professionals and can be completed part time
CEPH-accredited
info SPONSORED
University and Program Name
Format
Location
Number of Credits
Accrediting organization

Albany College of Pharmacy and Health Sciences

Bachelor of Science in Public Health

On-Campus
Albany, New York
127
CEPH

American University

Bachelor of Science In Public Health

On-Campus
Washington, D.C
58
CEPH

Andrews University

Bachelor of Science in Public Health

On-Campus
Berrien Springs, Michigan
124
CEPH

Andrews University

Bachelor of Science in Public Health

Online
Berrien Springs, Michigan
124
CEPH

Appalachian State University

Bachelor of Science in Public Health

On-Campus
Boone, North Carolina
60
N/A

Arcadia University

Bachelor of Science in Public Health

On-Campus
Glenside, Pennsylvania
128
CEPH

Baylor University

Bachelor of Science in Public Health

On-Campus
Waco, Texas
124
CEPH

Brigham Young University

Bachelor of Science in Public Health

On-Campus
Provo, Utah
120
CEPH

California Baptist University

Bachelor of Science in Public Health

Online
Riverside, California
88-91
CEPH

California State University, Northridge

Bachelor of Science in Public Health

On-Campus
Northridge, California
69-75
CEPH

California State University, San Bernardino

Bachelor of Science in Public Health

On-Campus
San Bernardino, California
120
CEPH

Central Michigan University

Bachelor of Science in Public Health

On-Campus
Mount Pleasant, Michigan
58
CEPH

Charles R. Drew University of Medicine and Sciences

Bachelor of Science in Public Health

On-Campus
Los Angeles, California
120
CEPH

Clemson University

Bachelor of Science in Health Science

On-Campus
Clemson, South Carolina
120+
CEPH

Coastal Carolina University

Bachelor of Science in Public Health

On-Campus
Conway, South Carolina
120
CEPH

Drexel University

Bachelor of Science in Public Health

On-Campus
Philadelphia, Pennsylvania
181
CEPH

East Carolina University

Bachelor of Science in Public Health

On-Campus
Greenville, North Carolina
120
CEPH

East Stroudsburg University

Bachelor of Science in Public Health

On-Campus
East Stroudsburg, Pennsylvania
120
CEPH

East Tennessee State University

Bachelor of Science in Public Health

On-Campus
Johnson City, Tennessee
120
CEPH

Eastern Kentucky University

Bachelor of Science in Public Health

On-Campus
Richmond, Kentucky
120
CEPH

George Mason University

Bachelor of Science in Community Health

On-Campus
Fairfax, Virginia
120
CEPH

George Washington University

Bachelor of Science in Public Health

On-Campus
Washington, D.C.
120
CEPH

Georgia Southern University

Bachelor of Science in Public Health

On-Campus
Statesboro, Georgia
124
CEPH

Georgia State University

Bachelor of Science in Public Health

On-Campus
Atlanta, Georgia
120
CEPH

Hawaii Pacific University

Bachelor of Science in Public Health

On-Campus
Honolulu, Hawaii
120
CEPH

Illinois State University

Bachelor of Science in Public Health

On-Campus
Normal, Illinois
120
CEPH

Indiana University–Purdue University Indianapolis

Bachelor of Science in Public Health – Community Health

On-Campus
Indianapolis, Indiana
120
CEPH

Indiana University–Purdue University Indianapolis

Bachelor of Science in Public Health – Global Health

On-Campus
Indianapolis, Indiana
120
CEPH

Indiana University–Purdue University Indianapolis

Bachelor of Science in Public Health – Epidemiology

On-Campus
Indianapolis, Indiana
120
CEPH

Indiana University – Bloomington

Bachelor of Science in Public Health

On-Campus
Bloomington, Indiana
120
CEPH

Kent University

Bachelor of Science in Public Health

On-Campus
Kent, Ohio
120
CEPH

Kent University

Bachelor of Science in Public Health

On-Campus
Kent, Ohio
120
CEPH

Lasalle University

Bachelor of Science in Public Health

On-Campus
Philadelphia, Pennsylvania
120
CEPH

Liberty University

Bachelor of Science in Public Health

On-Campus
Lynchburg, Virginia
120
CEPH

Louisiana State University – New Orleans

Bachelor of Science in Public Health

On-Campus
New Orleans, Louisiana
120
CEPH

Loyola University Chicago

Bachelor of Science in Public Health

On-Campus
Chicago, Illinois
120
CEPH

Mercer University

Bachelor of Science in Public Health

On-Campus
Macon, Georgia
120
CEPH

Montclair State University

Bachelor of Science in Public Health

On-Campus
Montclair, New Jersey
120
CEPH

New Mexico University

Bachelor of Science in Public Health

On-Campus
Las Cruces, New Mexico
120
CEPH

Northeastern University

Bachelor of Science in Health Science

On-Campus
Boston, Massachusetts
120+
CEPH

Nova State University

Bachelor of Science in Health Science

On-Campus
Fort Lauderdale, Florida
120
CEPH

Ohio State University

Bachelor of Science in Public Health

On-Campus
Columbus, Ohio
121
CEPH

Portland State University

Bachelor of Science / Bachelor of Arts in Public Health

On-Campus
Portland, Oregon
N/A
CEPH

University of Florida

Bachelor of Science in Public Health

On-Campus
Gainesville, Florida
120
CEPH

University of California at irvine

Bachelor of Science in Public Health

On-Campus
Irvine, California
120+
CEPH

University of California at irvine

Bachelor of Arts in Public Health

On-Campus
Irvine, California
120+
CEPH

University of Hawaii Manoa

Bachelor of Arts in Public Health

On-Campus
Manoa, Hawaii
120
CEPH

University of Georgia

Bachelor of Science in Public Health

On-Campus
Athens, Georgia
110+
CEPH

The University of Iowa

Bachelor of Arts/Bachelor of Science in Public Health

On-Campus
Iowa City, Iowa
118 -126
CEPH

University of Illinois Chicago

Bachelor of Arts in Public Health

On-Campus
Chicago, Illinois
120
CEPH

University of Illinois Chicago

Bachelor of Science in Public Health

On-Campus
Chicago, Illinois
120
CEPH

University of Louisville

Bachelor of Science in Public Health

On-Campus
Louisville, Kentucky
120
CEPH

University of Louisville

Bachelor of Arts in Public Health

On-Campus
Louisville, Kentucky
120
CEPH

University of Kentucky

Bachelor of Science in Public Health

On-Campus
Lexington, Kentucky
120
CEPH

University of Massachusetts Amherst

Bachelor of Science in Public Health Sciences

On-Campus
Amherst, Massachusetts
120
CEPH

University of Maryland

Bachelor of Science in Public Health

Online
College Park, Maryland
120
CEPH

University of Miami

Bachelor of Science in Public Health

On-Campus
Coral Gables, Florida
120
CEPH

University of Memphis

Bachelor of Science in Public Health

On-Campus
Memphis, Tennessee
120
CEPH

University of Michigan, Flint

Bachelor of Science in Public Health

On-Campus
Flint, Michigan
124
CEPH

University of Michigan

Bachelor of Arts in Public Health

On-Campus
Ann Arbor, Michigan
120
CEPH

University of Nebraska Omaha

Bachelor of Science in Public Health

On-Campus
Omaha, Nebraska
120
CEPH

University of Missouri

Bachelor of Science in Public Health

On-Campus
Columbia, Missouri
120
CEPH

University of Nevada, Reno

Bachelor of Science in Community Health Science

On-Campus
Reno, Nevada
120
CEPH

University of Las Vegas

Bachelor of Science in Public Health

On-Campus
Las Vegas, Nevada
120
CEPH

University of North Carolina, Charlotte

Bachelor of Science in Public Health

On-Campus
Charlotte, North Carolina
120
CEPH

University of North Carolina, Chapel Hill

Bachelor of Science in Public Health

On-Campus
Chapel Hill, North Carolina
120
CEPH

University of North Florida

Bachelor of Science in Health – Public Health

On-Campus
Jacksonville, Florida
120
CEPH

University of North Carolina at Wilmington

Bachelor of Science in Public Health

On-Campus
Wilmington, North Carolina
120
CEPH

University of South Carolina

Bachelor of Science/Bachelor of Arts in Public Health

On-Campus
Columbia, South Carolina
120
CEPH

University of Oklahoma

Bachelor of Science in Public Health

On-Campus
Norman, Oklahoma
120
CEPH

University of Southern Maine

Bachelor of Science in Public Health

On-Campus
Portland, Maine
120
CEPH

University of South Florida

Bachelor of Science in Public Health

On-Campus
Tampa, Florida
N/A
CEPH

University of Washington

Bachelor of Arts in Public Health-Global Health

On-Campus
Seattle, Washington
180
CEPH

University of Washington

Bachelor of Science in Public Health-Global Health

On-Campus
Seattle, Washington
180
CEPH

University of Southern Mississippi

Bachelor of Science in Public Health

On-Campus
Hattiesburg, Mississippi
120
CEPH

University of Southern Mississippi

Bachelor of Science in Public Health

On-Campus
Hattiesburg, Mississippi
120
CEPH

University of Wisconsin, Milwaukee

Bachelor of Science in Public Health

On-Campus
Milwaukee, Wisconsin
120
CEPH

University of Wisconsin, La Crosse

Bachelor of Science in Public Health

On-Campus
La Crosse, Wisconsin
120
CEPH

West Virginia University

Bachelor of Science in Public Health

On-Campus
Morgantown, West Virginia
120
CEPH

Virginia Polytechnic Institute and State University

Bachelor of Science in Public Health

On-Campus
Blacksburg, Virginia
120
CEPH

Western Kentucky University

Bachelor of Science in Public Health

On-Campus
Bowling Green, Kentucky
120
CEPH

Western Connecticut State University

Bachelor of Science in Health Promotion Studies

On-Campus
Danbury, Connecticut
120
CEPH

William Paterson University

Bachelor of Science in Public Health Promotion

On-Campus
Wayne, New Jersey
93
CEPH

Western Washington University

Bachelor of Science in Public Health

On-Campus
Bellingham, Washington
98-103
CEPH