Public Health Core Competencies
Public health professionals focus on making the lives of other people and their communities better. They concern themselves with many factors that play a role in the health of humans, such as the environment, public policy, health care and laws. If you are interested in taking on a public health role and are looking for an appropriate graduate program, a master's degree might be an ideal way to achieve your goal.
As an MPH student, you will be guided by 22 foundational core public health competencies (PDF, 406 KB) set forth by the Council on Education for Public Health (CEPH). Here is a closer look at these core competencies for public health professionals and why they are essential.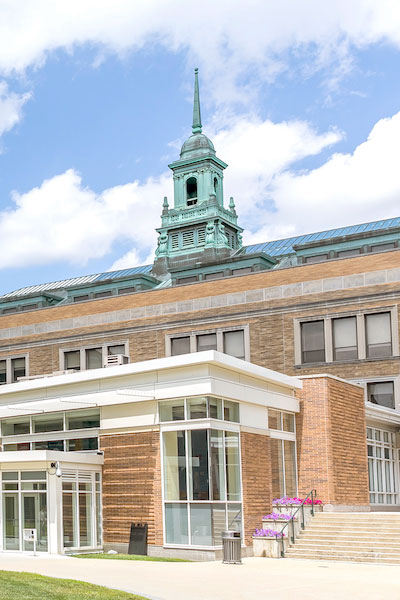 Simmons University
Department of Public Health
Bachelor of Science in Public Health
Women with 17+ prior college credits or an associate degree: Complete your bachelor's degree in a supportive women's online public health BS program.
Up to 96 transfer credits accepted, plus credit for life experience
Degree programs are designed for working professionals and can be completed part time
CEPH-accredited
info SPONSORED
Definition of Core Competencies
Core competencies are difficult to mimic. They are the fundamental knowledge, skills and attributes a person or organization holds that allow an individual or company to succeed and grow. What are core competencies in public health?
In the public health sector, core public health competencies allow the workforce to operate effectively and carry out the core functions of public health, including population health assessment, monitoring, health promotion, disease and injury prevention, health protection and emergency preparedness.
Some public health employers may refer to the core competencies to develop job descriptions in postings, performance objectives and assessment, and workforce development plans to ensure a skilled workforce. Plus, for students who are about to enter the job market, knowing the core competencies is a great way to understand your own strengths/weaknesses and evaluate your professional capabilities.
What are the 5 Core Competencies of Public Health?
A master's in public health program, such as Master of Public Health(MPH) or Master's in Healthcare Administration, advances a graduate student's understanding of the following five public health disciplines.
Biostatistics
Competencies in biostatistics enable public health professionals to address and solve problems in public health by analyzing and interpreting data and applying statistical reasoning and methods.
Environmental Health Sciences
This competency focuses on how biological, physical and chemical environmental factors affect human health.
Epidemiology
Often associated with public health and public health degree programs, the epidemiology competency is the ability to study diseases and injury within populations.
Health Policy and Management
It's the ability to use both a managerial and a policy perspective to focus on the delivery, accessibility, quality, organization and health care costs for individuals and populations.
Social and Behavioral Sciences
This competency in public health examines how behavioral, social, and cultural matters contribute to public health issues.
What are the 22 CEPH Competencies of Public Health?
Built on the conventional public health core knowledge areas (biostatistics, environmental health sciences, epidemiology, health policy and management, and social and behavioral sciences), as well as multisector and emerging public health areas; these CEPH competencies must be demonstrated by all graduates and are critical to the success of public health professionals.
Evidence-based approaches to public health
1. Apply epidemiological methods to the breadth of settings and situations in public health practice.
2. Select quantitative and qualitative data collection methods appropriate for a given public health context.
3. Analyze quantitative and qualitative data using biostatistics, informatics, computer-based programming and software, as appropriate.
4. Interpret the results of data analysis for public health research, policy, or practice.
Public health and health care systems
5. Compare the organization, structure, and function of health care, public health and regulatory systems across national and international settings.
6. Discuss how structural bias, social inequities and racism undermine health and create challenges for achieving health equity at the organizational, community and societal levels.
Planning and management to promote health
7. Assess population needs, assets and capacities that affect communities' health.
8. Apply awareness of cultural values and practices to the design or implementation of public health policies or programs.
9. Design a population-based policy, program, project or intervention.
10. Explain the basic principles and tools of budget and resource management.
11. Select methods to evaluate public health programs.
Policy in public health
12. Discuss multiple dimensions of the policy-making process, including the roles of ethics and evidence.
13. Propose strategies to identify stakeholders and build coalitions and partnerships for influencing public health outcomes.
14. Advocate for political, social or economic policies and programs that will improve health in diverse populations.
15. Evaluate policies for their impact on public health and health equity.
Leadership
16. Apply principles of leadership, governance, and management, which include creating a vision, empowering others, fostering collaboration and guiding decision making.
17. Apply negotiation and mediation skills to address organizational or community challenges.
Communication
18. Select communication strategies for different audiences and sectors.
19. Communicate audience-appropriate public health content, in writing and through oral presentation.
20. Describe the importance of cultural competence in communicating public health content.
Interprofessional practice
21. Perform effectively on interprofessional teams.
Systems thinking
22. Apply systems thinking tools to a public health issue.
Core Competencies vs. Specializations: What are the Differences?
While both are necessary for effective public health work, they are distinct in that core competencies of public health are the knowledge, skills and abilities needed to successfully perform "critical work functions," whereas public health specializations are a narrow or defined area of expertise in which to apply core competencies.
Information last updated in July 2020
Sponsored Online Public Health Programs