How Do Natural Disasters Affect Mental Health?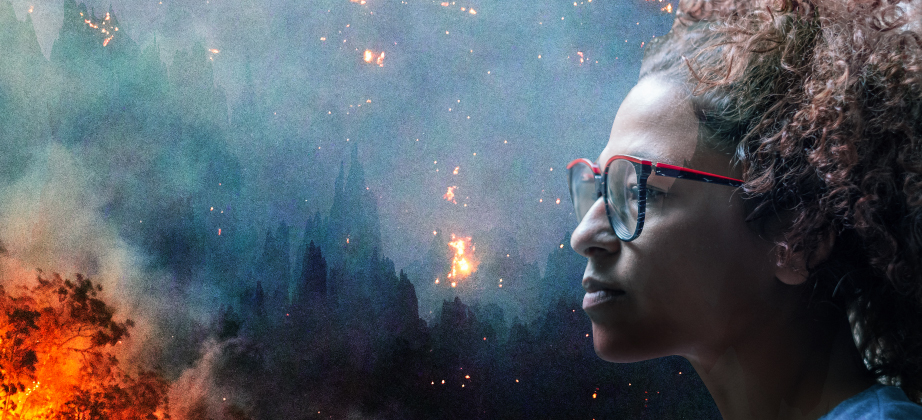 After some of the largest bushfires in Australian history burned across the continent for seven months, it only took weeks after the flames were extinguished for patches of green to begin emerging from the scorched land.
"In these horrible burnt out areas, there were signs of life with green pieces of flora and fauna coming through," said Erin Smith, an associate professor in Edith Cowan University's School of Medical and Health Sciences. "But is it as easy for regrowth and that sort of recovery to happen for people, particularly from a mental health perspective?"
Though the physical effects of natural disasters may fade within weeks or months, the psychological toll these events take on individuals and communities can linger for years. There are strategies that individuals and disaster-prone communities can use to build resilience ahead of traumatic events and combat the mental health impacts of natural disasters when they strike.
What Are the Psychological Effects of Natural Disasters?
Nearly everyone in a community hit by a natural disaster will experience some sort of emotional reaction to the event.
In the book Healthy, Resilient, and Sustainable Communities After Disasters, experts at the Institute of Medicine state the following: "For most, the acute reactions will be transient, and functional recovery will occur without intervention. For some, however, the impacts of a disaster on behavioral health can be severe and long-lasting, and if not addressed, can impede the recovery of individuals, families, and communities, resulting in significant long-term health burdens."
Disasters not only affect the psychological health of individuals but can also damage the collective psyche of communities by disrupting the norms, values and rituals that provide the basis for their resilience.
"Collective trauma occurs when an unexpected event like this bushfire crisis comes through and damages the ties that bind our community together," Smith said during a webinar on the mental health impact of the bushfires hosted by the World Association for Disaster and Emergency Medicine. "It's those social bonds, that connectedness that is so important for resilience and so important ultimately for the way that people will recover after disasters."
There are emotional highs and lows that correspond to different phases of a disaster and recovery, according to the Substance Abuse and Mental Health Services Administration. The range of emotions individuals experience related to a disaster may include feelings of uncertainty, panic, optimism, abandonment and grief.
Mental and Emotional Phases of a Disaster
The pre-disaster phase can be as short as minutes if there is no warning of a disaster, or it can last for months if there is a known threat. Feelings of fear and uncertainty define the pre-disaster phase, and people in this phase may feel a sense of vulnerability and lack of control to protect themselves and their families.
The impact phase is typically the shortest of the six disaster phases. People in this phase can experience a range of intense emotions corresponding to the type of disaster, including shock, panic, confusion and disbelief. After the initial shock, individuals may feel a strong sense of self-preservation or family protection.
The heroic phase occurs after a disaster strikes and is often associated with altruism. Community members may engage in rescue activities driven by adrenaline, though their risk assessment may be impaired in this phase. The heroic phase often passes quickly.
Emotions climb to a high in the honeymoon phase, which usually lasts for a few weeks after a disaster. This phase is characterized by community bonding and optimism and provides an opportunity for assistance to affected groups.
The disillusionment phase can last for months or years after a disaster, and it can be extended by trigger events such as the anniversary of a disaster. There may be an increased need for relief services, but those affected by disasters realize the limits of relief available during the disillusionment phase. This phase is characterized by negative mental health outcomes, including feeling discouraged, stress, exhaustion, substance use and feelings of abandonment.
Reconstruction typically begins a year after a disaster occurs and may last for years. This phase is associated with a sense of recovery as stakeholders take responsibility for rebuilding their lives, adjust to a "new normal" and continue to grieve.
Source: Substance Abuse and Mental Health Services Administration, "Phases of Disaster," https://www.samhsa.gov/dtac/recovering-disasters/phases-disaster
Created by PublicHealthDegrees.org.
What mental and emotional complications do disaster survivors experience?
Common emotional reactions and mental health effects of disasters may include:
Distress
Shock
Fear
Guilt
Confusion
Anxiety
Depression
Irritability
Substance abuse
Post-traumatic stress disorder (PTSD)
Traumatic incident stress
Changes to interpersonal relationships
Changes in thought and behavior patterns
Intense or unpredictable feelings
Mood swings
Flashbacks
Difficulty making decisions
Problems sleeping
Difficulty eating
Compassion fatigue
Burnout
Who is most at risk for mental health complications after disasters?
Some groups may feel the mental health effects of disasters more strongly than others. These groups include:
Children: Children's vulnerability to stress reactions after disasters depends on their age, cognitive level, exposure to a disaster and their parents' or caregivers' status after the event. They may experience PTSD, anxiety, depression, grief, behavioral problems and academic difficulties.
People with preexisting mental illness or prior trauma survivors: An individual's mental health status prior to a disaster factors into their outcomes after an event. People with a history of mental illness are more likely to experience poor mental health outcomes such as PTSD, depression, substance use disorder and poor resilience after disasters.
First responders and recovery workers: Workers who respond to disasters and aid in recovery are more likely to develop complications including substance use disorders, depression and PTSD.
Risk factors for stress reactions after disasters also include the severity of a person's exposure to a disaster, gender, family, age, bereavement, physical injuries, family separation, preexisting individual stressors, socioeconomic status and low social support.
Smith recounted the experience in Australia, where heavy smoke hung in the air for weeks in major cities across the country during the 2019–2020 fires.
"You don't need to be directly in communities that have been directly decimated and impacted, but you can be in the regions where the smoke filters to and still have that mental health impact from seeing it," Smith said.
How do natural disasters affect children's mental health?
Children are more prone to mental health complications after a natural disaster because they understand less about the situation, feel less control over the situation and have less experience coping with difficult events, according to the Centers for Disease Control and Prevention. For instance, many children living in Australian cities had never experienced anything like the bushfires before.
"All of a sudden they're waking up, they can smell the smoke, they can see it, and they're thinking that the city's on fire," Smith said. "So, we had that additional layer of vulnerability that we really had to address."
The National Institute of Mental Health reports that responses to trauma differ for children and adolescents of different age groups. Generally, children are more likely than adults to be affected by PTSD after a disaster, and the CDC says that children under the age of 8 have the highest risk for mental health disorders after disasters.
Steps to Shore Up Mental Health Around Natural Disasters
How can disaster-prone communities engage in mental health preparedness?
Pre-disaster planning is critical for communities to clearly establish responsibilities for mental health stakeholders at all levels, build a resilient system that is able to deliver behavioral health services and ensure that those in need receive mental health treatment. The disaster recovery process can be an opportunity to advance behavioral health care in communities if strong systems do not exist ahead of time.
Mental health should be a component of natural disaster and emergency preparedness, according to the World Health Organization. Preparations to help promote mental health as part of community health should include:
Strengthening community self-help and social support.
Supporting psychological first aid.
Providing basic clinical mental health care at health care facilities.
Offering psychological interventions for people affected by long-term distress.
Protecting and promoting the rights of people with severe mental health conditions.
Providing referral mechanisms between mental health and general health care providers.
Considering natural disaster effects on people with chronic mental illnesses (PDF, 205KB) and helping those people and their families develop a disaster plan.
Identifying residences that house people with serious mental illnesses before evacuations.
Planning to monitor the mental health of first responders and recovery workers and following up with them in months and years after traumatic events.
What strategies help mental health recovery after natural disasters?
The American Psychological Association offers the following tips for adults recovering emotionally from disasters:
Take time to adjust to difficult circumstances.
Ask for support from friends and family.
Express your feelings through talking, writing or creative activities.
Join a support group.
Engage in healthy behaviors, including getting adequate sleep, eating well, and avoiding alcohol and drug use.
Reestablish routines and build in positive activities.
Avoid making major life decisions.
Smith also recommends utilizing employee assistance programs.
How can parents and caregivers support children's mental health after disasters?
The National Institute of Mental Health offers the following tips for parents to support children's mental health after disasters:
Allow children to be sad and cry.
Encourage children to communicate their feelings through talking, writing or drawing.
Limit children's access to news coverage of the disaster event.
Keep usual routines as much as possible.
Help children cultivate independence and agency.
Reduce stressors including changes in living situations, pressure to perform well in school, periods away from family and friends, and fighting within the family.
Contact health providers if children are unable to perform normal routines after a month or if they develop new behavioral or emotional problems.
How can community members offer emotional and mental health support after disasters?
Smith encouraged communities to "reach in" to those who might be vulnerable to mental health complications after disasters rather than waiting for them to reach out.
"Once people are already in a crisis, it's a lot harder to actually ask for help," she said.
The National Institute of Mental Health offers several suggestions for community members to help those in need after a disaster, including:
Help people connect with family and friends and find food, shelter, access to medical care and information about recovery.
Offer buildings as gathering centers for support groups.
Help families find mental health professionals to counsel children.
Hold meetings for parents to discuss strategies for helping their children cope.
Be sensitive to diverse cultural responses to stress and trauma.
Mental Health Resources for Disaster Survivors
These resources and organizations offer mental health support and information for natural disaster survivors.
Please note that this article is for informational purposes only. Individuals should consult their health care provider before following any of the information provided.